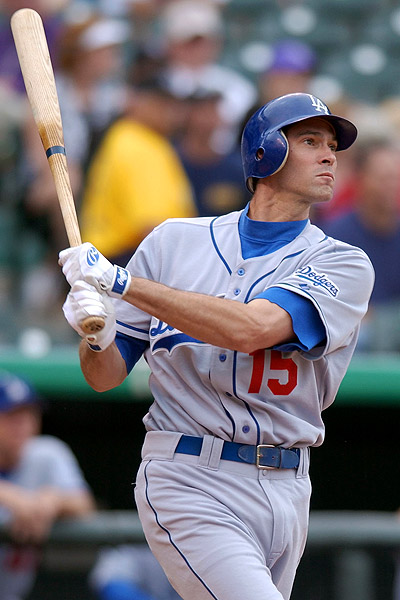 Shawn Green was not the most exciting player in recent Dodger memory.  He didn't look the part of a slugger. His frame was slender, his left handed batting stance was a tad awkward, and he definitely didn't have the "eye of the Tiger" when he played right field for the Dodgers.  But man, the dude could hit.  In 2001 and 2002 Shawn Green put up OPS+ of 154 and 154 respectively and this was done whilst playing in 319 out of 324 games.  Manny Ramirez will likely be remembered for being the best hitter in a Dodger uniform in the 2000's, but at this point Ramirez has only played one full season in a Dodger uniform considering he arrived at the deadline in 2008 and missed 50 games to suspension in 2009. 
We got to experience Shawn Green in his prime, and the time he spent in Los Angeles could not have been more necessary to the Dodger club.  Consider that in 2002 the Dodgers won 92 games (generally good enough for a post-season appearance.)  While Green was hitting to the tune of .285/.385/.558, the only other Dodger starter who posted an OPS+ north of 100 was the brittle Brian Jordan with an OPS+ of 118.  The remaining Dodger starters posted an OPS+ of less than 100 with the starting second baseman and shortstop posting an OPS+ 81 and 51 respectively.  That Dodger team could pitch and play defense to be sure, but a team doesn't win 90+ games without being able to hit. Almost all of the heavy lifting in that department was done by Shawn Green, and as opposed to Manny Ramirez who was in a lineup with other sluggers like Ethier and Kemp, Green was the only batter opposing pitchers needed to concern themselves with.  The fact that he was able to slug .558 whilst being the only above average hitter on the team makes the accomplishment all the more impressive. 
While its easy for me to focus on the two outstanding seasons Green had in the middle of his Dodger tenure, it's not to suggest that the other 3 seasons spent at the Ravine were poor.  Of the 5 seasons Green spent in Los Angeles, the fewest games played during a season was 157 in 2004 and the lowest OPS+ earned by Green was 113 also in 2004.  Green was simply a reliable player who rarely missed time who spent 5 years in Los Angeles with above average production. That's not to say his time in L.A was without controversy.  He angered teammates Paul Lo Duca and Odalis Perez for failing to dive for a ball which would turn out to be the lone hit in a Perez complete game effort (I blame Lo Duca's belligerent reaction to the media afterwards to roid rage.)  And, despite missing relatively few games, Green is perhaps unfortunately best remembered for 1 game in particular he did miss.  During the 2001 season, Green elected to sit out a game in observance of Yom Kippur (it broke a streak of 415 consecutive games played.)
On a personal level, Green (and Kevin Brown; I think I have a soft spot for baseball players with colors as last names) was really my first favorite baseball player for when I was old enough to actually make an intelligent decision on the matter.  During the height of the steroid era, Green's two outstanding seasons in the Ravine will be looked upon favorably.  Green was simply the best hitter to wear a Dodger uniform in the 2000's, and for that reason, I believe he should be inducted into the O'Malley Suite. 
(Photo by AP Photo/David Zalubowski)