Dodgers pitcher Hyun-jin Ryu completed an important milestone on Thursday, throwing off a mound for the first time since his shoulder surgery last May, the latest step in a long rehabilitation process for the left-hander.
Ryu, back in the U.S. on Monday to continue his training, more than a month before pitchers and catchers are scheduled to report to camp, threw long toss at Camelback Ranch before then throwing off a mound in the bullpen area just outside the Dodgers clubhouse.
Daum Sports was there to capture the events, and posted several photos, like this one:.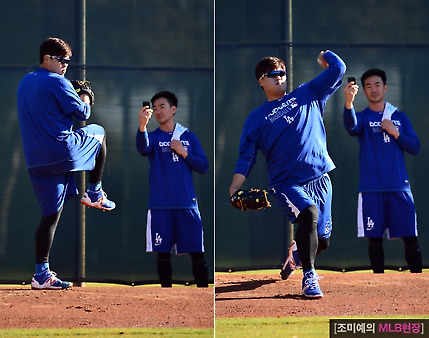 Ryu said on Monday he hopes to be ready by opening day, though given the Dodgers' starting rotation depth they are in a position where they don't have to hurry him back.
But whenever Ryu is eventually ready to return to a major league mound, this was a key moment in the process, and it's a positive sign he got it out of the way sooner rather than later.